Associate Professor Neale Cohen – How technology is changing the management of Type 1 diabetes
23 October 2020

12:00pm

–

1:00pm
Speaker
Associate Professor Neale Cohen MBBS FRACP (The Baker Institute)
Abstract
Type 1 diabetes has traditionally been managed with multiple daily injections of insulin in association with frequent blood glucose monitoring. Fluctuations in blood glucose levels and insulin requirements are a constant source of difficulty and anxiety for patients, making this the most difficult chronic illness to manage on a daily basis. Technological changes in insulin pumps, continuous glucose monitoring and artificial pancreas systems have developing rapidly, and are providing patients with improved outcomes including increased time in normal glucose range, reduced hypoglycaemic episodes, and improved quality of life. In the next few years fully closed loop systems will come into use which will allow patients to manage their diabetes without the constant fear of hyper and hypoglycaemia.
Speaker bio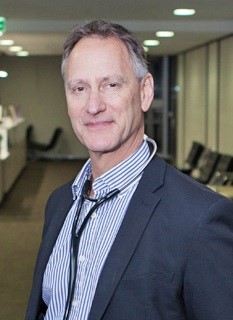 Associate Professor Neale Cohen is an endocrinologist and current Director of Clinical Diabetes at The Baker Heart and Diabetes Institute in Melbourne. He graduated from Monash University in 1984 doing post graduate training at the Alfred Hospital, the International Diabetes Institute and the Austin Hospital and attained his specialty status in endocrinology in 1992. He has worked in senior management at the International Diabetes Institute, and now The Baker Institute, since 2007. He oversees a number of diabetes services located in central Melbourne, Footscray, Central Australia, and telehealth services to regional Victoria.
He is head of the Diabetes Clinical Research group at The Baker with research focus in technology and management of Type 1 diabetes, Type 2 diabetes therapeutics, and indigenous diabetes. His work in Central Australia has involved regular travel to remote communities over the past ten years, and development of novel therapies and models of care to improve outcomes for patients with diabetes. Current university positions held are Monash University, Adjunct Clinical Associate Professor, Department of Epidemiology and Preventative Medicine, and University of Queensland Adjunct Associate Professor, School of Pharmacy.
About Seminar Series
The School of Pharmacy Seminar Series involves regular formal presentations of high-quality scholarly work with broad appeal.
The wider School community is invited to attend, including academic and professional staff, special guests, visitors, as well as HDR, postgraduate, masters and honours students.
Seminars are held on Fridays from 12pm–1pm in room 5034 in the Pharmacy Australia Centre of Excellence, 20 Cornwall St Woolloongabba (next to TRI and the PA Hospital).
Confirmed 2022 seminars
Date

Presenter

12-1pm, Friday 1st April (PACE R5034 and Zoom)

Dr Ran Wang, Mater Research Institute, UQ

12-1pm, Friday 22nd April (Zoom Only)

Dr Joanna Harnett, School of Pharmacy, The University of Sydney

12-1pm, Friday 29th April (PACE R5034 and Zoom)
Dr Iman Azimi, Lecturer in Pharmaceutical Science, University of Tasmania

12-1pm, Friday 6th May (PACE R5034 and Zoom)

Dr Larisa Labzin, Institute of Molecular Bioscience, UQ

12-1pm, Friday 20th May (PACE R5034 and Zoom)

Prof Nina Barnett, Consultant Pharmacist,

Visiting Professor Kingston University, UK, London

11am-12pm, Friday 27th May (Zoom only)

Prof Terry Hebert, Department of Pharmacology and Therapeutics, McGill University, Montreal, Canada

12-1pm, Friday 3rd June (PACE R5034 and Zoom)

A/Prof Joy Wolfram, School of Chemical Engineering, UQ

12-1pm, Friday 17th June (PACE R5034 and Zoom)

Dr Rink-Jan Lohman, School of Pharmacy, UQ and

Dr Karnaker Reddy Tupally, School of Pharmacy, UQ

12-1pm, Friday 1st July (PACE R5034 and Zoom)

Dr Khay Fong, School of Environmental Life Sciences, University of Newcastle
Venue
Pharmacy Australia Centre of Excellence, 20 Cornwall St, Woolloongabba OR Via Zoom; details TBC