Professor Paul Clarke - Cellular responses to disruption of mitosis and DNA damage: implications for cancer chemotherapy
19 March 2021

12:00pm

–

1:00pm
Speaker
Professor Paul Clarke, Director, UQ Diamantina Institute
Abstract
Defects in chromosome segregation during mitosis can result in aneuploidy and chromosome instability, which are associated with cancer. The propagation of chromosome abnormalities is restricted by the induction of cell death in cells that fail to complete chromosome segregation during mitosis. The propensity of a cell to undergo mitotic cell death is determined by the function of the spindle assembly checkpoint, which holds the cell in mitosis, and by regulation of the intrinsic apoptotic pathway during mitotic arrest. In addition, cells entering mitosis with DNA damage have an increased tendency to undergo mitotic cell death. We show that mitotic cell death is linked to the progression of mitosis through protein phosphorylation and protein degradation, and is under the control of the products of oncogenes and tumour suppressors. These mechanisms provide opportunities to enhance the response of cancer cells to chemotherapy and to develop improved strategies for treating cancer.
Speaker bio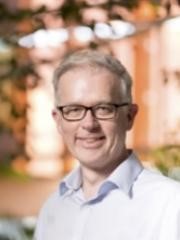 Paul Clarke is Director of The University of Queensland Diamantina Institute (UQDI), a leading translational medical research centre studying cancer, autoimmune diseases, infection and immunity, and the genetic basis of disease.
Professor Clarke's current research interests are the molecular mechanisms of cell division, chromosome instability and mitotic cell death. He also carries out research into the cellular responses to anti-cancer drugs.
Paul Clarke joined UQ in 2017 from the University of Dundee in Scotland where he was Professor of Cancer Cell Biology and Associate Dean (Research) in the School of Medicine. As an undergraduate, he studied Biochemistry at the University of Bristol and, for his PhD, carried out research on the control of metabolism with D. Grahame Hardie FRS at Dundee. Subsequently he was a Wellcome Trust Research Fellow working on control of the cell cycle at the European Molecular Biology Laboratory, Heidelberg (1991-1994) and a Senior Research Fellow at the University of Manchester (1994-1998).
He joined the University of Dundee as a Senior Lecturer in 1998 and was awarded a personal chair in 2005. Professor Clarke has received a UK Medical Research Council Career Establishment Award (2001), Royal Society-Wolfson Research Merit Award (2003) and research fellowships from The Wellcome Trust and Cancer Research UK. He is a Fellow of the Royal Society of Biology.
About Seminar Series
The School of Pharmacy Seminar Series involves regular formal presentations of high-quality scholarly work with broad appeal.
The wider School community is invited to attend, including academic and professional staff, special guests, visitors, as well as HDR, postgraduate, masters and honours students.
Seminars are held on Fridays from 12pm–1pm in room 5034 in the Pharmacy Australia Centre of Excellence, 20 Cornwall St Woolloongabba (next to TRI and the PA Hospital).
Confirmed 2022 seminars
Date

Presenter

12-1pm, Friday 1st April (PACE R5034 and Zoom)

Dr Ran Wang, Mater Research Institute, UQ

12-1pm, Friday 22nd April (Zoom Only)

Dr Joanna Harnett, School of Pharmacy, The University of Sydney

12-1pm, Friday 29th April (PACE R5034 and Zoom)
Dr Iman Azimi, Lecturer in Pharmaceutical Science, University of Tasmania

12-1pm, Friday 6th May (PACE R5034 and Zoom)

Dr Larisa Labzin, Institute of Molecular Bioscience, UQ

12-1pm, Friday 20th May (PACE R5034 and Zoom)

Prof Nina Barnett, Consultant Pharmacist,

Visiting Professor Kingston University, UK, London

11am-12pm, Friday 27th May (Zoom only)

Prof Terry Hebert, Department of Pharmacology and Therapeutics, McGill University, Montreal, Canada

12-1pm, Friday 3rd June (PACE R5034 and Zoom)

A/Prof Joy Wolfram, School of Chemical Engineering, UQ

12-1pm, Friday 17th June (PACE R5034 and Zoom)

Dr Rink-Jan Lohman, School of Pharmacy, UQ and

Dr Karnaker Reddy Tupally, School of Pharmacy, UQ

12-1pm, Friday 1st July (PACE R5034 and Zoom)

Dr Khay Fong, School of Environmental Life Sciences, University of Newcastle
Venue
Pharmacy Australia Centre of Excellence, 20 Cornwall St, Woolloongabba
Room:
Online via Zoom (register via link), and in-person in room 5034