Dr Larisa Labzin - Inflammation in acute respiratory viral infections (COVID-19 and Influenza)
6 May 2022

12:00pm

–

1:00pm
Speaker
Dr Larisa Labzin, Institute of Molecular Bioscience, UQ
Abstract
Effective host defence against infection relies on accurate and timely immune detection. Accumulating evidence suggests that severe COVID-19, caused by Severe Acute Respiratory Syndrome Coronavirus 2 (SARS-CoV-2) infection, results from a failure of early host interferon signalling to control the virus, followed by exacerbated pro-inflammatory responses driving tissue damage. Airway epithelial cells, the primary target for SARS-CoV-2 infection respond by releasing both anti-viral and pro-inflammatory cytokines. Airway-resident or newly recruited macrophages also appear to be a key source of pro-inflammatory cytokines in severe COVID-19, with macrophage-derived cytokines implicated in the severe pathology seen in patients. Here we explore the molecular pathways by which macrophages sense viral infections to drive protective and pathogenic responses, with a view to identifying new therapeutic targets for acute viral infections.
Bio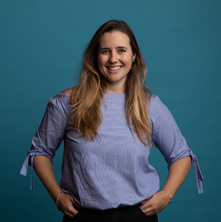 Larisa's interest in innate immunity started during her honours training with Prof. Matt Sweet at the IMB, looking at how TLR4 signalling is regulated by HDACs. After gaining more experience while working as a research assistant for Prof. Sweet, she moved to Germany to the University of Bonn for her PhD. At the University of Bonn Larisa investigated the anti-inflammatory effects of High Density Lipoprotein with Prof. Eicke Latz. Larisa then moved to Cambridge, UK as an EMBO postdoctoral fellow to work with Dr. Leo James at the Medical Research Council Laboratory for Molecular Biology. In Dr James' lab Larisa focused on how viruses are sensed by the innate immune system to trigger inflammation. In particular Larisa investigated how antibodies change the way viruses trigger inflammation. While in Cambridge, Larisa was awarded an NHMRC CJ Martin Fellowship to return to Australia. Larisa returned to the IMB in September 2019 to work with Prof. Kate Schroder. Larisa is an IMB Fellow and is continuing to investigate how viruses trigger inflammation. 
About Seminar Series
The School of Pharmacy Seminar Series involves regular formal presentations of high-quality scholarly work with broad appeal.
The wider School community is invited to attend, including academic and professional staff, special guests, visitors, as well as HDR, postgraduate, masters and honours students.
Seminars are held on Fridays from 12pm–1pm in room 5034 in the Pharmacy Australia Centre of Excellence, 20 Cornwall St Woolloongabba (next to TRI and the PA Hospital).
Confirmed 2022 seminars
Date

Presenter

12-1pm, Friday 1st April (PACE R5034 and Zoom)

Dr Ran Wang, Mater Research Institute, UQ

12-1pm, Friday 22nd April (Zoom Only)

Dr Joanna Harnett, School of Pharmacy, The University of Sydney

12-1pm, Friday 29th April (PACE R5034 and Zoom)
Dr Iman Azimi, Lecturer in Pharmaceutical Science, University of Tasmania

12-1pm, Friday 6th May (PACE R5034 and Zoom)

Dr Larisa Labzin, Institute of Molecular Bioscience, UQ

12-1pm, Friday 20th May (PACE R5034 and Zoom)

Prof Nina Barnett, Consultant Pharmacist,

Visiting Professor Kingston University, UK, London

11am-12pm, Friday 27th May (Zoom only)

Prof Terry Hebert, Department of Pharmacology and Therapeutics, McGill University, Montreal, Canada

12-1pm, Friday 3rd June (PACE R5034 and Zoom)

A/Prof Joy Wolfram, School of Chemical Engineering, UQ

12-1pm, Friday 17th June (PACE R5034 and Zoom)

Dr Rink-Jan Lohman, School of Pharmacy, UQ and

Dr Karnaker Reddy Tupally, School of Pharmacy, UQ

12-1pm, Friday 1st July (PACE R5034 and Zoom)

Dr Khay Fong, School of Environmental Life Sciences, University of Newcastle
Venue
Level 5, Pharmacy Australia Centre of Excellence (PACE)
20 Cornwall Street, Woolloongabba 4102