Associate Professor Amirali Popat - Overcoming biological barriers using precision nanomedicine – My story and the importance of collaboration in Drug Delivery Science
12 August 2022

12:00pm

–

1:00pm
Please register to receive the Zoom link to join the seminar online.
Speaker
Associate Professor Amirali Popat, School of Pharmacy, The University of Queensland
Speaker bio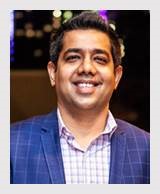 Associate Professor Amirali Popat is a Director of Research at The University of Queensland's School of Pharmacy. He graduated with a PhD in Nanomedicine from Australian Institute of Bioengineering and Nanotechnology (AIBN), UQ in 2012. His research focuses on development of stimuli responsive nanomaterials to overcome multiple biological barriers for precision medicine, in particular development of smart oral drug delivery systems for the treatment of IBD, Diabetes and Cancer. He has published 70 papers and 3 patents in the last 10 years with > 3500 citations and H-Index of 32. He has won many prestigious awards including faculty higher degree supervision award, early career researcher award, QLD young Tall Poppy Science Award to name a few. At the School of Pharmacy, UQ Dr. Popat is heading a research group "Nanomedicine" which focuses on development of programmable drug delivery systems to treat chronic diseases such as IBD, Diabetes, and Cancer. He is an immediate past president of Australian Controlled Release Society (AusCRS) and Vice chair of CRS focus group on oral delivery. He is an associate editor of Journal of Controlled Release and editorial board member of many prestigious journals such as DDTR, Pharmaceutics, Frontiers in Biotech, Frontiers in Pharmacology and early career advisory board member of Nanoscale Horizon.
About Seminar Series
The School of Pharmacy Seminar Series involves regular formal presentations of high-quality scholarly work with broad appeal.
The wider School community is invited to attend, including academic and professional staff, special guests, visitors, as well as HDR, postgraduate, masters and honours students.
Venue
Level 5, Pharmacy Australia Centre of Excellence (PACE)
20 Cornwall Street, Woolloongabba 4102