Dr Nathalie Bock - Bioengineered microtissue models as drug testing platforms for cancer research
7 October 2022

12:00pm

–

1:00pm
Speaker
Dr Nathalie Bock, QUT and TRI 
Abstract
Researching new therapies for bone pathologies has traditionally involved the use of 2D cell culture systems with different types of bone cells, often murine cell lines, with, at most, the addition of isolated extracellular components to recapitulate some signals present in the bone microenvironment. Mostly used for mechanistic purposes and preclinical drug screening, these 2D models are further transitioned into animal models for drug validation, prior to clinical testing. In over 90% of cases, clinical failures are however observed, partly due to inherent species differences. In cancer-related diseases, the bone tumour microenvironment is often a metastatic site, representing such a source of heterogeneity between patients, cancer subtypes and treatment histories, that the current approaches only diminish the chances of treatment efficacy.
In the last three decades, advances in tissue engineering and bioengineering have been put forward to address this unmeet need and will be discussed in this talk. It is now established that three-dimensional (3D) microenvironment models better mimic structural and biochemical properties, including critical cell-to-cell and cell-to-matrix interactions. Three-dimensional cell culture using scaffolds, hydrogels, mineral addition, chemical treatments and mechanical stimulation enable human primary cells to be cultured in more chemically- and mechanically-relevant contexts than 2D models, a step closer to human bone. More recently, the use of patient-derived xenografts with 3D tissue engineered bone models have further proven to enable better physiological relevance as an in vitro model for drug discovery and screening.
Lastly, the use of tissue-engineered human bone models as humanized xenograft models in rats and mice have been used, either ectopically or orthotopically, so far for the study of advanced breast, prostate and multiple myeloma cancers and osteosarcomas, enabling novel mechanistic insights in human disease. For primary and secondary cancers in bone alike, tissue engineering and rodent humanization represent a promising tool for studying advanced human tumour niches in bone.
 Speaker bio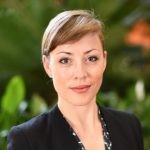 Dr Nathalie Bock (she/her) is a Senior Research Fellow and Principal Investigator in the Faculty of Health, School of Biomedical Sciences at QUT. Dr Bock is the Leader of the Bone & Tumour Bioengineering research group and the Deputy Co-Director of the Max Planck Queensland Centre (MPQC) for the Materials Science of Extracellular Matrices. Dr Bock obtained her M.Sc. in Materials Science & Engineering in 2007 from the National Polytechnic Institute of Lorraine (France) and her PhD in Biomedical Engineering & Medical Physics from QUT (Australia) in 2014. Her NHRMC Peter Doherty Early-Career Fellowship (QUT, 2015-2020) looked at developing tissue models to replicate the metastatic human bone microenvironment in prostate cancer.
Dr Bock's current Advance Queensland Industry Research Mid-Career Fellowship (QUT, 2021-2024) is progressing her work on bone metastatic tissue models for individualised therapy guidance in breast cancer. Since 2022, Dr Bock leads a 5-year research program in MPQC looking at defining and understanding the relationship between architecture, cellular and extracellular composition, and transport properties of the osteocyte lacunocanalicular network via computational modelling and biomimetic bone tissue engineering. 
Please note – this seminar will not be recorded on request by the presenter.
About Seminar Series
The School of Pharmacy Seminar Series involves regular formal presentations of high-quality scholarly work with broad appeal.
The wider School community is invited to attend, including academic and professional staff, special guests, visitors, as well as HDR, postgraduate, masters and honours students.
Venue
Room:
Online and Room 5035, Level 5, Pharmacy Australia Centre of Excellence (PACE)