A/Prof Christine Staatz - Characterising and improving the usage and monitoring of immunosuppressant agents
10 May 2019

12:00pm

–

1:00pm
Speaker
A/Prof Christine Staatz
Abstract
Solid organ transplant recipients must continuously take immunosuppressant agents to prevent rejection and retain their graft. Most individuals will be on these therapies for the rest of their lives. Sub-optimal dosing of immunosuppressant agents causes significant morbidity and mortality. Drug-induced toxicity (including hypertension, hyperglycaemia, nephrotoxicity, neurotoxicity and bone marrow suppression), excessive immunosuppression (causing infections and malignancy) and rejection are frequent problems transplant recipients face. Therapeutic drug monitoring is routinely performed with use of several immunosuppressant agents, with the drug dosage adjusted to achieve a given level of drug exposure. Patient outcomes in solid organ transplant are likely to be further improved if dosing of immunosuppressant agents is further individualised, with concentration targeting based on rigorous pharmacokinetic and pharmacodynamics analyses and use of a target concentration intervention approach in a Bayesian forecasting software program. Development of alternative methods to venepuncture for measurement of immunosuppressant drug levels would likely make dosage individualisation much easier and more convenient for patients. In the last decade several advances have been made to improve the usage and monitoring of immunosuppressant agents. The aim of this talk is to highlight some of the work our team at the School of Pharmacy, the University of Queensland have been involved in, and highlight recent progress in this field.
Speaker bio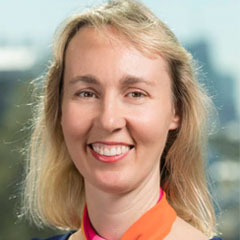 A/Prof Christine Staatz graduated with a Bachelor of Pharmacy degree from the University of Queensland back in the days when the School was located in the Steele Building on the St Lucia campus. Following graduation she registered as a pharmacist in Australia and the United Kingdom and has worked in the Redlands, Princess Alexandra and Wesley Hospitals in Brisbane, and the Western Infirmary in Glasgow. In 2002 she completed a PhD degree at the University of Queensland under the supervision of Professor Susan Tett. Subsequent to this she was the recipient of a NHMRC post-doctoral fellowship, which enabled her to train overseas in the field of Pharmacometrics within the Department of Medicine and Therapeutics at the University of Glasgow (Scotland) and the Department of Pharmaceutical Biosciences at Uppsala University (Sweden). Following her stint aboard, Christine gained a position in the school as an academic and has had the privilege of training undergraduate and postgraduate students in the field of clinical pharmacokinetic and pharmacodynamics ever since. Christine's research work to date has primarily been directed towards optimizing usage of immunosuppressant drugs in solid organ transplant recipients and antibiotics in patients with life-threatening infections. Christine has published over 85 peer review manuscripts in her specialist field and has attracted competitive funding totaling more than 2.5 million dollars towards her research projects
About Seminar Series
The School of Pharmacy Seminar Series involves regular formal presentations of high-quality scholarly work with broad appeal.
The wider School community is invited to attend, including academic and professional staff, special guests, visitors, as well as HDR, postgraduate, masters and honours students.
Seminars are held on Fridays from 12pm–1pm in room 5034 in the Pharmacy Australia Centre of Excellence, 20 Cornwall St Woolloongabba (next to TRI and the PA Hospital).
Confirmed 2022 seminars
Date

Presenter

12-1pm, Friday 1st April (PACE R5034 and Zoom)

Dr Ran Wang, Mater Research Institute, UQ

12-1pm, Friday 22nd April (Zoom Only)

Dr Joanna Harnett, School of Pharmacy, The University of Sydney

12-1pm, Friday 29th April (PACE R5034 and Zoom)
Dr Iman Azimi, Lecturer in Pharmaceutical Science, University of Tasmania

12-1pm, Friday 6th May (PACE R5034 and Zoom)

Dr Larisa Labzin, Institute of Molecular Bioscience, UQ

12-1pm, Friday 20th May (PACE R5034 and Zoom)

Prof Nina Barnett, Consultant Pharmacist,

Visiting Professor Kingston University, UK, London

11am-12pm, Friday 27th May (Zoom only)

Prof Terry Hebert, Department of Pharmacology and Therapeutics, McGill University, Montreal, Canada

12-1pm, Friday 3rd June (PACE R5034 and Zoom)

A/Prof Joy Wolfram, School of Chemical Engineering, UQ

12-1pm, Friday 17th June (PACE R5034 and Zoom)

Dr Rink-Jan Lohman, School of Pharmacy, UQ and

Dr Karnaker Reddy Tupally, School of Pharmacy, UQ

12-1pm, Friday 1st July (PACE R5034 and Zoom)

Dr Khay Fong, School of Environmental Life Sciences, University of Newcastle
Venue
Pharmacy Australia Centre of Excellence, 20 Cornwall St, Woolloongabba